National Housing Corporation (NHC) Profile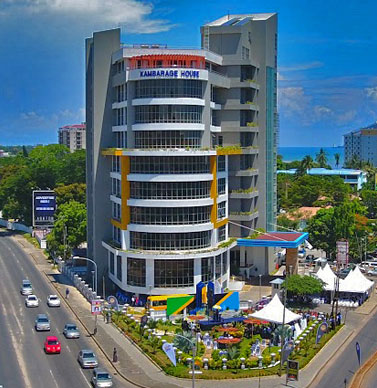 6 Ufukoni Street,
P.O BOX 2977,
11101 Dar es salaam,
Tanzania.
The current National Housing Corporation is the outcome of the decision of the Government to dissolve the Register of building (RoB) through Act of Parliament No.2 of 1990, which vested its responsibilities with the NHC. The former NHC was established by Act of Parliament No.45 of 1962, while RoB was established by Act No.13 of 1971.
NHC is under the Ministry of Lands, Housing and Settlements Development. The Ministry is represented by the Board of Directors which is responsible for the corporate policies and strategies. The day to day management of NHC's business is overseen by the Director General who is responsible to the Board of Directors. Effective from July, 1994, the Corporation's portfolios have been divided into profit centers which are income generating and self-sustaining directorates and cost centers which play a supportive role. This role mandates the NHC to undertake an array of business.
Construction of houses for sale.

Construction of buildings as part of approved scheme.

Provision of facilitating the provision of building materials, components, concrete article and other related articles.

Business of building contractors, planners or consultants.

Renting out and managing houses or properties built by the corporation and those acquired by the government.

Carrying out other activities related to construction of houses or other building built or acquired by the corporation.
"To be a leading Real Estate Development and Management firm."
"To provide and facilitate the provision of quality housing and other buildings for use by the general public while operating on sound commercial principles."
The core values of NHC revolve around:
Professionalism
Efficiency
Transparency
Integrity
Team work
Innovativeness
These core values reflect the NHC ideals and principles and hence serve as guidelines for the Corporation as well as its officials in the conduct of their responsibilities.
The Corporation developed the present 10 year strategic plan for 2015/16 to 2024/25. The key goal is to deliver
30,000 housing and commercial units in this period. This strategic plan was motivated by the following factors:
i. The corporation's recent high performance as reflected by the achievements on the six (6) strategic goals
ii. Management and leadership eagerness to transform the Corporation into one of top ten performing
institutions in Tanzania.
iii. The growing demand for quality residential and commercial properties that outstrips supply due to steadily
growing economic growth.